Capilano Volkswagen Wins 2013 Wolfsburg Award
January 15 2018, Capilano Volkswagen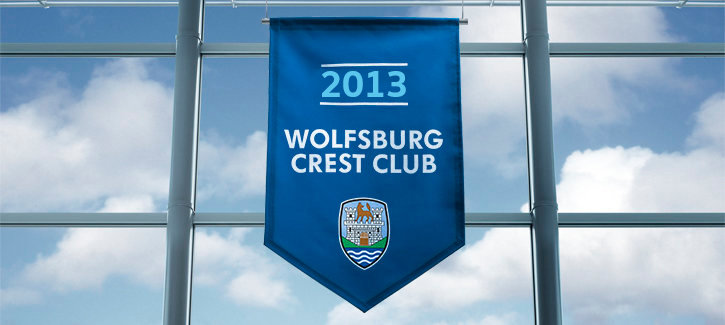 The 2013 Volkswagen Canada Wolfcrest Club recognition program is intended to highlight the top-performing dealerships and employees for their exemplary performance. It's a privilege to be a member of the exclusive Wolfscrest Club, and when a dealership offers outstanding sales and service, Volkswagen Canada makes a point of celebrating it!
Each year, these Wolfcrest Club Awards are received for outstanding commitment, customer service, professionalism, service, customer care, as well as dealership milestones, such as highest sales in a region, highest Certified Pre-Owned Sales, and more!
Capilano Volkswagen previously won this award in 2011. Now, representatives from Volkswagen Canada have presented your BC Volkswagen Dealership, Capilano VW, with the Wolfsburg Crest Club Award trophy for 2013.
Keep reading for some cool facts about the prestigious club, how it got its name, and interesting trivia of Volkswagen and its production facility plant!
Q: So what exactly is a Wolfsburg Crest Award? How did it get its name?

A: The Wolfsburg Crest Award is an award named after Wolfsburg, Germany. Wolfsburg was named from its historical roots in World War II, when a town originally created in 1938 was introduced to house the workers of the newly opened Volkswagen factories. These factories were built to assemble the Volkswagen Beetle, or "the people's car." The town was renamed "Wolfsburg" on May 25th, 1945 after an ancient castle in the town was demolished.
Q: How does a Volkswagen Dealership acquire one of these prestigious awards?
A: To qualify for a Wolfsburg Crest Club Award, a Volkswagen dealership must display excellence in all areas of business such as:
New Vehicle Sales

Certified Pre-Owned Vehicle Sales

Customer Service Experience Excellence

Customer Sales Experience Excellence

Employee Training Performance

Volkswagen Parts Sales

Volkswagen Operating Standards Compliance

Facility Excellence
When a dealership is recognized for this criteria, they are inducted as a member of the prestigious Volkswagen Wolfsburg Crest Club and awarded for their excellence. There are only 35 members out of 135 in Canada!
Q: What are some other facts about Wolfsburg that may be interesting?
A: New attractions like the Volkswagen Autostadt, a huge open air museum dedicated to automobiles, owned and operated by Volkswagen, and Kunstmuseum Wolfsburg, an excellent private art museum specialized in modern and contemporary art.
DID YOU KNOW? The Autostadt was opened in 2000, next to Volkswagen HQ in Wolfsburg! When you visit this stunning 250,000 m2 complex, which features lakes, parks, marketplaces, streets, and even its own train station, you embark on a fascinating voyage of discovery. You can also enjoy various types of entertainment, world restaurants, and a unique events centre.
Each year, 1.2 million visitors from all over the world visit the Autostadt to study the technology behind our legendary reliability, and share Volkswagen's vision of the future!
DID YOU KNOW? No two Volkswagen cars are exactly alike? That's because we use a unique combination of human skill and automation to build each car to every customer's individual preference from millions of possible design variations. Of course, all our cars share the exact same legendary reliability.
DID YOU KNOW? The Wolfsburg plant in North Germany, HQ of the Volkswagen group, is at 5 km2. It's one of the largest and most advanced car factories in the world. It has the largest state-of-the-art paint shop in Europe, the first to use eco-friendly water-based paints!
DID YOU KNOW? The assembly line is where engines and features are brought together in precise configurations! This has come after assembly, rigorous measurements, final adjustments, and performance tests are carried out to ensure the quality our customers expect.
Q: Can we take a tour through the Autostadt?
A: YES! Take a virtual tour of the Autostadt: enter the official microsite or call the hotline on +49 (0)800 28 86 78 23.